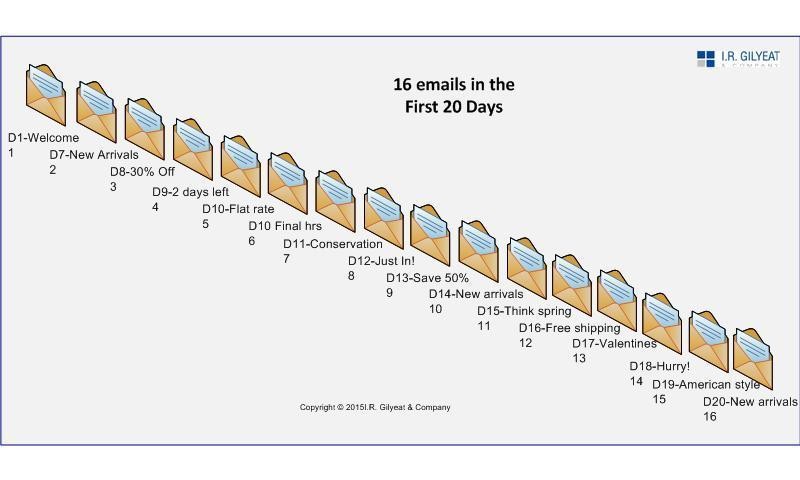 Does your customer journey start like this?
Published 31 January 2015
Recently I signed on to receive emails from a specialty clothing retailer - just to see how they do their marketing. What you see above is the result of my first 20 days of emails received. Notice that the Welcome Email came on day one, then a pause until day 7, then every day a new email. A few other things I'd like to point out:
No personalization exists in any of these emails
No dynamic content has been delivered
No gender specific offers
All of this in spite of the fact that I have clicked-through on the exact same category of products multiple times. I have visited their web site numerous times, always making sure to visit the product category I am testing. In fact a product category that clearly shouts, "I'm interested in buying men's pants!"
What's wrong with the picture? I'll let you decide, but here are a few more interesting tidbits:
The company generates over $100M annually.
They have online and retail storefronts
Eloqua is their platform of choice
It is clear to me that the company has many places where improvements can be made; where a much stronger ROI can be delivered against their marketing technology investment; and perhaps most important - the customer journey through a defined customer lifecycle can be readily enhanced.
So, what does your customer journey look like? Is it something like this? Or something much more compelling.
As someone once said, "The journey of a thousand miles begins with the first few steps." If you want your customers to take a long, long journey with your company, make sure you start things off right. Otherwise, you just might find your customer's journey is short - and heading for the exit.