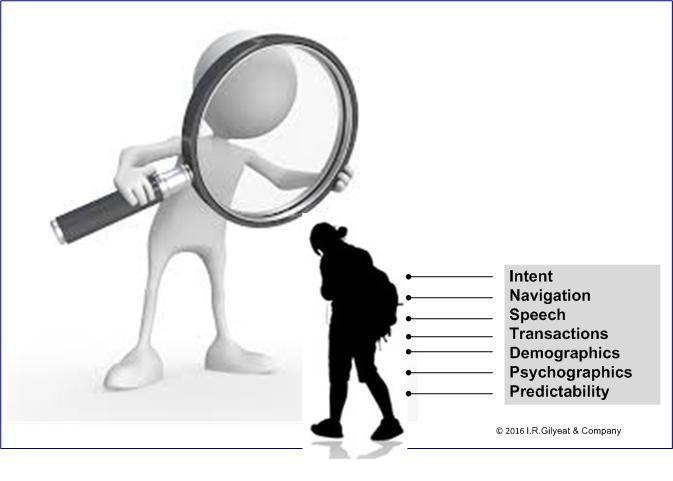 Which data sources are you using to model your customers – what they say or what they do?
Published 12 October 2017
The black box of predictive analytics comes in many flavors and nuances. And of course which methods you use become part of the assessment on whether or not you fail or succeed in today's marketing tech driven world.

So – here are a few for you to consider if you're looking to boost your customer lifecycle marketing:
· Expressed intent – a fancy name for predictive analytics built from search data. Not too long ago I sat on a panel discussing customer lifecycle marketing. This was way down south, at a beautiful yacht club in the Florida Keys. The venue was extraordinary. The discussions were likewise stimulating. The idea of "expressed intent" and search came to the forefront. Every time we search online, whether that is through Google, Yahoo, Bing or others; whether on a desktop, laptop, tablet or mobile device, we leave behind a trail of digital crumbs, anxiously gathered and analyzed by some digital marketer. Predictive models built from this treasure trove of expressed intent can be extremely useful when combined with transaction history data, click-stream data, company data, etc.
· Transaction histories – every purchase has a story to tell. It may not be obvious, but it's there. Is it a first time purchase, an add-on purchase, an up-sell to a better product? Perhaps a new office location is opening, new employees are being hired, or better technology for process improvements so the company can cut costs. Purchase history data when combined with other data elements can be extremely useful.
· Predictive Index (PI) – PI is a tool commonly used for screening, selecting and coaching employees so they can be more productive in the work place. It is a self-reporting assessment tool that in my experience can be highly predictive. It identifies things like Dominance, Extroversion, Patience and Detail capabilities/assets of the individual. Take a look at this tool here and then imagine having this type of information on your most loyal buying customers. This may seem farfetched, but if you really believe your own rhetoric about customer relationship marketing and that your company is a "Trusted Advisor" then why wouldn't your customers be willing to spend 3-5 minutes helping you understand them better so you can better serve their wants and needs? Take a look and see what thoughts it prompts for you if applied to customer lifecycle marketing.
· Speech Analytics – call centers, sales centers, customer support lines, tech support lines and customer interaction centers are everywhere. The ability to capture, record and analyze today's conversations is impressive. How many times do you make a phone call to a company only to hear a message saying something to the effect of "this call may be recorded so that we may serve you better – for quality improvement purposes." Okay, so phone calls are being recorded in your company call center – are you using natural language speech analytics to understand the tone, urgency and context of the language your customers are using with you? If yes, once the speech patterns are understood, are they analyzed in real time, integrated with your CRM system and providing useful prompts to the agent/sales person on the phone? If not, are you recording every call for training purposes and building predictive models for every sales agent or customer service agent to help them improve their language and map their language (i.e. choice of words used) to the customer lifecycle experience? Lots of big data opportunities in this one, right?
This is a short list, and perhaps only the largest of companies can take advantage of these ideas. Or then again, maybe you should be asking your marketing tech vendors if they have these types of tools so you can add them to your marketing technology stack.
Now, let me tie this back to the headline question – what they say or what they do? Many companies use customer satisfaction surveys. Many are listening to and responding to social media. Some are using speech analytics. However, the bottom line is this - at some point all of this data and all of the predictive tools will be or can be used to increase revenue and profit. It's a conscious choice – or at least it should be. Companies need to decide what the right balance is for them. Some will focus only on bottom line results while others are okay with healthy profits so long as they maintain and keep happy and satisfied customer relationships. What is your company using and how do these types of data sources fit into your customer lifecycle efforts?
In my experience, behavioral tools far outweigh the value of customer sat surveys and other reference points that focus on what customers say – at least when it comes to designing and developing customer lifecycle models. However, with the continuing evolution of analytics, social media, cognitive computing and big data, this bias needs to be validated over and over and over again.